NEWS
Josh Duhamel on Being a Dad: Fergie's "Got a Plan"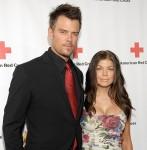 Josh Duhamel will finally be staring as the leading man in the film, Life As We Know It, and will also be tackling the role of a dad. And it sounds like Josh might be ready for the same thing in his own life! OK! GALLERY: JOSH TEACHES SHIA HOW TO TACKLE THE TRANSFORMERS 3 ACTION
The new issue of Elle magazine features Josh as the leading man Hollywood has been waiting for and his Life As We Know It co-star, Katherine Heigl, agree!
Article continues below advertisement
"Before he even opens his mouth, you see this guy, and he's so good-looking that it puts you back on your heels a little bit," Katherine says of her co-star. "It's hard to overlook completely."
Katherine even pushed for Josh to be cast in his first leading-man movie role, Life As We Know It.
"He's like the perfect leading man, and there absolutely are really beautiful leading men out there who have found their way to the Oscars," she says. "Like George Clooney. "It does happen."
OK! NEWS: JOSH DUHAMEL LOVES KIDS...AND THEY LOVE HIM!
In the film, Josh and Katherine play two single people whose best friends are married to each other. Their friends set them up on a date that Katherine says, "Crashes and burns before they even get out of the driveway." But when the friends are killed in a car accident, Josh and Katherine learned their one-year-daughter was willed to them to raise.
Article continues below advertisement
"It's not just a simple 'Yes, I'll do it; I'll be a good father," Josh explains. "There are some real questions: whether or not he wants to do it, whether he can, whether he's even going to stick around."
OK! VIDEO: KATIE HOLMES LUSTS AFTER JOSH DUHAMEL IN THE ROMANTICS TRAILER
But Josh himself already seems to be on board for babies!
"Look at this," he says during his interview with Elle showing pictures of his sister's one-year-old twins, Oliver and Everette on his BlackBerry. Josh even gave his sister Ashlee the idea for the name Everette driving the pace car at the Indy 500.
And the biggest baby surprise of all, is that Josh already has a list of his own for possible baby names for a future family with his wife Fergie!
So does that mean a baby is own the way soon for the couple? "Oh, she's a planner," Josh would only say. "She's got a plan."
Josh married Fergie in 2009 after meeting back in 2004.
"It was really important to me to have somebody who wanted success for me, who wanted the best for me, who pushed me and inspired me to be better," he explains. "Not somebody who, for whatever reason, whether resentment or jealousy or whatever, will hold you back. I went through that once before."
"I knew early on that Fergie was right for me," he adds. "She's got an incredible strength and optimism. I knew that I was going to be a better man with her."
Life As We Know It opens in theaters Oct. 8!