NEWS
Fergie's Face Change Explained: Husband Josh Duhamel Says "Different Color" Lipstick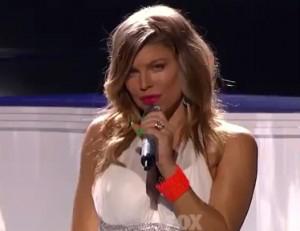 Fergie's performance on American Idol last week launched a debate about what was different about her face with fans speculating she had a new makeover (work done) or maybe even is pregnant. Well, her husband, Josh Duhamel, is putting everyone's curiosity to rest.
OK! NEWS: FERGIE SHOWS OFF NEW MAKEOVER ON AMERICAN IDOL?
"Fergie's Face" became a trending topic online immediately following Fergie's appearance on Idol as fans thought she definitely looked different, but weren't sure why.
Article continues below advertisement
Ryan Seacrest asked Josh this morning on his show (via E! News) to explain whether or not there is something different about his wife's face.
OK! NEWS: AMERICAN IDOL BLOG — TOP 12 RESULTS SHOW!
"I thought she looked amazing," Josh told Ryan.
"It's amazing. You put a different color on your lips and, uh, rumors fly," he said. "But she's the same, she's the same Fergie… I sleep right next to her every night. I like it."
Satisfied?
What do you think of Josh's explanation? Do you think that's what was different about Fergie?
Watch Fergie's performance on American Idol below!