NEWS
'Fifty Shades of Grey' Author E L James: "It's for Ordinary Women Who Like Some Spicy Sex"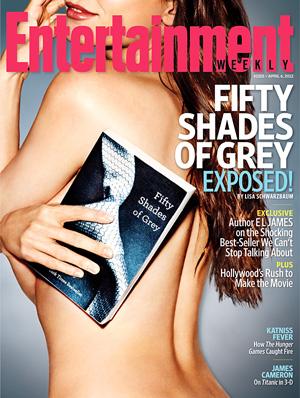 Article continues below advertisement
For those who have seen a connection between Fifty Shades of Grey and Twilight, you can feel slightly vindicated.
James tells Entertainment Weekly that she did look to the author of Twilight for advice when she sat down to write her book.
"I came up with a story and I wrote it," James explains. "I read an interview with Stephenie Meyer where she said, 'You've got to start at the beginning.' So I did that."
Simple as that!
OK! NEWS: THE HUNGER GAMES BREAKS RECORD WITH $155 MILLION OPENING WEEKEND
And James isn't surprised that so many people love the books.
"It's fantasy," she says. "It's a romantic fantasy story. That's it. It's just a fun read. I don't see it as erotica. I see it as a contemporary romance."
"Yes, it's quite graphic," she admits, "but when people fall in love they have sex. Well, actually, they have a lot of sex. In the beginning. So that's what this is about. It's for ordinary women who like some spicy sex."
The movie rights were reportedly sold for nearly $5 million to Universal and Focus Features.
Who do you think should play the star roles in the film? Check out OK!'s top pics HERE!
The new issue of EW hits stands Friday.