NEWS
Finding Love Again: Sandra Bullock and Kim Kardashian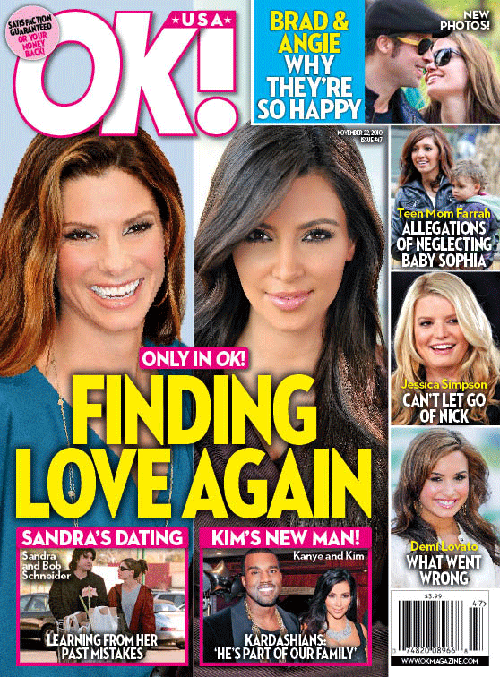 New Love: After recovering from her divorce from ex Jesse James and focusing on raising her new baby son, Sandra Bullock is ready for a relationship again. Plus, take a look at the other loves she has had in the past. And Kim Kardashian is having a great time with her new man, Kanye West. Find out if her new guy will be invited to holiday dinner!
Teen Mom: Farrah Abraham faces accusations by caregivers of baby Sophia that she is neglectful. Learn what Farrah can do to help her little girl. Plus, Amber Portwood is not spending time with daughter Leah and as Gary is working or goes out, his mom is spending more and more time with the baby. Are these kids in danger?
Article continues below advertisement
Baby Time: Carrie Underwood reveals plans to be a mom as she talks about how she would love to be pregnant at the same time as all of her friends. Will there be a baby on the way soon? Plus: expecting moms Kelly Preston and Melissa Rycroft talk about their pregnancies!
Demi Lovato: The Disney star has ended her time on the Jonas Brothers tour and checked into a treatment facility. What went wrong? And is Joe Jonas to blame? Find out why the pressure may have been too much for her to handle.
Plus:
Girls Gone Wild mastermind Joe Francis ties the knot in Mexico! Take a look at who attended the lavish nuptials!; Elizabeth Smart finally testified against the man charged with kidnapping and abusing her eight years ago. Did her parents put her at risk?; Is it too soon for Christina Aguilera to date? Should Meghan McCain have criticized Bristol Palin for not voting? The experts weigh in; Skincare gurus talk about how to get fabulous winter skin like Taylor Swift and Jennifer Lopez; The daily diet of Glee star Jayma Mays; Lasting impressions with Burlesque star Julianne Hough.