NEWS
FIRST LOOK! Edward & Bella with Renesmee in 'Twilight Saga: Breaking Dawn - Part 2' Promo Pic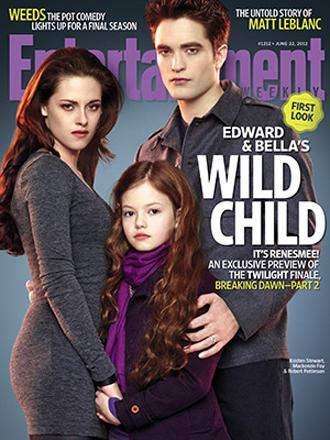 Feast your eyes, Twihards! Entertainment Weekly is giving Twilight fans a glimpse at Mackenzie Foy as Renesmee in their new cover for Breaking Dawn - Part 2, featuring Kristen Stewart and Robert Pattinson.
For the cover, Kristen as Bella and Rob as Edward pose with Mackenzie, who will play the half vampire-half human child of the couple. As many of you know, Bella was turned into a vampire after giving birth to Renesmee in Breaking Dawn - Part 1 and now we get to see the beautiful baby as a gorgeous young woman!
Article continues below advertisement
OK! VIDEO: THE TWILIGHT SAGA: BREAKING DAWN - PART 2 TRAILER RELEASED, STARRING VAMPIRE BELLA!
"Bella and Edward's baby makes her debut in this week's issue of EW," the magazine wrote on it's Facebook page, where they posted a promo picture of Kristen and Rob guarding their on-screen spawn.
"Renesmee is a shy, sweet little girl and she is going through this hard time in her life and she loves her parents so much and she's ready to fight, whatever stands in her way," Mackenzie said of her Twilight character at the premiere of Breaking Dawn — Part 1 in November. "She's just this wonderful amazing character to play."