NEWS
Former 'Friends' Star Matthew Perry Changes His "Selfish" Ways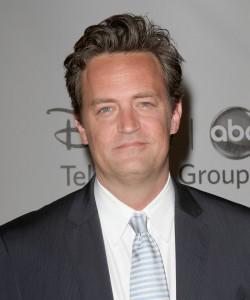 While promoting his new ABC TV comedy Mr. Sunshine at the Beverly Hilton Hotel today, Matthew Perry says his "selfish" character "is like me five years ago. I'm much nicer these days."
When asked to elaborate, Matt said at his press conference, "just pick up any newspaper or magazine from 1996."
The ex-Friend, who checked himself into rehab in 1997 for Vicodin dependency, is in much better spirits these days as he's looking forward to Mr. Sunshine, which will be a midseason show on ABC.
Article continues below advertisement
MATT LEBLANC SAYS NO TO 'FRIENDS' AND 'COUGAR TOWN'
And he's keeping himself in shape by "hiking and going to the gym and all the things you said you would never would do. I play Walleyball often, volleyball inside a racketball court. I live near the ocean so I just kind of walk around and look at that."
Matt's former co-star, Matt LeBlanc, has gone grey for his new role in Showtime's Episodes. When Matt Perry, who has the slightest touch of salt and pepper starting in his hair, was asked if he's doing the same, Perry said, "Yes. Until it doesn't look good. I'm fine with the fact that some of my hair is grey."
DAVID SCHWIMMER CONFIRMS ENGAGEMENT TO ZOE BUCKMAN
When asked by a reporter why David Schwimmer seems to be the only one of the Friends who has fallen out of the spotlight, Matt said, "I've not seen David in awhile. I would assume he's doing exactly what he wants to be doing," like theater projects. "He loves directing."
Those looking for any kind of Friends reunion on Mr. Sunshine will have to wait. "Will I ask former cast mates on the show?" Matt said of his upcoming ABC sitcom. "Yes but in the third season. I don't want to use them as a launching pad."