NEWS
Matt LeBlanc Says No to 'Friends' & 'Cougar Town'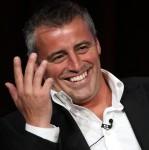 Matt LeBlanc and the producers of his new Showtime TV series Episodes told reporters today that there won't be a Friends reunion on the show. And don't look for Matt to guest on his former co-star Courteney Cox's show, Cougar Town, either!
OK! NEWS: FRIENDS STARS MATTHEW PERRY & MATT LEBLANC BOTH HEAD BACK TO TV
When asked at a press conference if any of the Friends cast will do a guest shot on Episodes, producer David Crane said, "not this season." But Crane, one of the creators of Friends, wouldn't rule it out for the future: "Who knows? It's certainly not something we're planning on but it's not impossible."
Article continues below advertisement
Meanwhile, when asked after the press conference if he'd do Cougar Town, Matt laughed, "I haven't been asked."
OK! NEWS: LISA KURDROW TRACES ROOTS & UNCOVERS FAMILY SECRETS IN NEW NBC SHOW
Matt's new Showtime series, set to premiere Jan. 10, is a comedy about a British TV series that's remade for America. Matt plays a version of himself. "It's not really me," he said. But aspects of a big-time TV comedy star will be satirized on Episodes. "One thing is — our salaries on Friends were published in the paper and everyone knows how much money we made and so I said, let's inflate that even further — I have my own jet. And I don't own a jet in real life," Matt said.
OK! NEWS: DAVID SCHWIMMER CONFIRMS ENGAGEMENT TO ZOE BUCKMAN
Fans will see a slightly different look on Matt these days. The star, who did Friends for 12 years, is letting the gray in his hair show these days: "I dyed my hair the whole time on Friends," he confided. "I am just sick of doing this."
The actor, whose previous series based on his Friends character, called Joey, was canceled, said he took some time off to be with his daughter Marina, now six. "I was kind of burned out," he admitted. "I just wanted to be a dad and spend time with my little girl and we have a great bond and it's the best thing in my life."
OK! NEWS: COURTENEY COX TALKS COUPLES COUNSELING & BOTOX
Although it seems Matt has been typecast as dimwitted Joey and he admits fans constantly feed him the "How you doing?" line, the actor isn't bugged by his Friends baggage. "I take it as a compliment when people say, 'hey, Joey,' " he told reporters today.