NEWS
The Four 'Teen Mom' Spinoffs We Could See Happening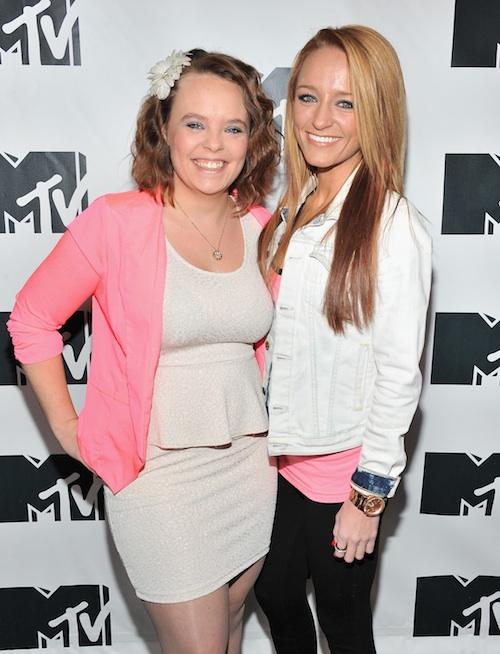 There's been a lot of talk but no action on the subject of spinoffs for the girls of the original Teen Mom. We've come up with an idea for each girl in effort to help speed this process up! Check out our ideas below and let us know who you most want to see back on your TV!
YOUR ULTIMATE GUIDE TO TEEN MOM
1) Maci Bookout
We'd love to see Maci's life on the road as a public speaker. Her message will probably need some adjusting as she gets older, but we think it would be interesting to see a girl who missed out on the typical college experience go on a college speaking tour. Many of the students she talks to are going to go out drinking later, making mistakes and memories that that they (hopefully) will still be laughing about with their friends for years to come. It would be interesting to see how much that bothers Maci, if at all.
Article continues below advertisement
While we'd love to see Catelynn and Tyler Baltierra's wedding on TV (or in person...hey, guys!), we have a different idea for a spinoff for these two (we're using the term loosely). It's always amazed us how Catelynn and Tyler managed to stay committed to each other for so long. They've overcome some serious obstacles and some serious weirdness (such a their parents marrying each other). We're really interested in their lives before Teen Mom, and would love to see a dramatization based on that! Cate and Ty could do cameos, of course.
Again, we're thinking more of a dramatization inspired by Amber's life. A young mother who voluntarily went to prison seeking stability? What is the adjustment like after that? We won't know until 2017, but this has Lifetime movie written all over it! We would totally watch this. (And just for the record, we totally support Amber.)
We've watched all of Farrah's YouTube videos, and the ones that were almost good were the cooking ones. "You only need six ounces of protein to satisfy your appetite a day," she said in one. Well, thanks, Farrah! That actually is a helpful tip. If it's true. Is that true? Some commenters did not react kindly to Farrah's cooking videos, but we vote that not everything has to be gourmet level, here! Farrah went to culinary school, she has her own sauce, and Sophia would be the cutest helper imaginable!