NEWS
'Game of Thrones' Creator: Using George W. Bush Decapitated Head "Not Political"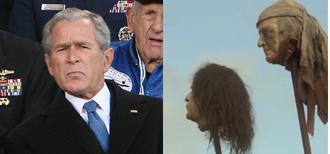 Fans of HBO's fantasy series Game of Thrones were treated to a scene with a severed head on a stick that looked pretty familiar... like former President of the United States familiar.
OK! VIDEOS: WATCH THE NEW TRAILER FOR SEASON TWO OF GAME OF THRONES
The network housing the Emmy award-nominated series were forced to issue an apology after using a George W. Bush mask in a few beheading scenes. HBO said they were "deeply dismayed" and found the move to be a "careless mistake" and "in bad taste."
Article continues below advertisement
Regardless, the Thrones creators swear it wasn't intentional.
OK! NEWS: THE PHILM GUY'S REVIEW OF GAME OF THRONES
"It's not a political statement. It's just...we had to use what heads we had lying around," creators David Benioff and D.B. Weiss insist. "We use a lot of prosthetic body parts on the show: heads, arms, etc. We can't afford to have these all made from scratch, especially in scenes where we need a lot of them, so we rent them in bulk. After the scene was already shot, someone pointed out that one of the heads looked like George W. Bush. In the DVD commentary, we mentioned this, though we should not have. We meant no disrespect to the former President and apologize if anything we said or did suggested otherwise."
What are your thoughts? Should the creators remove the scene?