NEWS
'Gene Simmons Family Jewels' to Show Gene & Shannon Tweed's Relationship Unravel?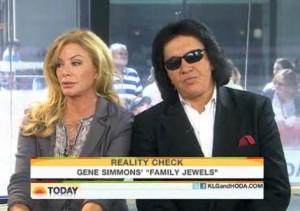 Is the 28-year relationship of Shannon Tweed and Gene Simmons in trouble? On Gene Simmons Family Jewels, Shannon confronted Gene about his womanizing ways, and when the couple made an appearance with Kathie Lee Gifford and Hoda Kotb on Today yesterday, Shannon still seemed incredibly upset!
OK! GENE SIMMONS ON IDOL — "I DON'T THINK JENNIFER LOPEZ IS GOING TO MEAN A THING"
Kathie Lee Gifford said on the show, "It's tense in the studio... you're in deep pooky, Gene."
Article continues below advertisement
And that was an understatement.
As Gene tried to explain an incriminating photo Shannon confronted him with, Shannon interrupted him every chance she got.
"Please don't lump yourself in with.... other men are good," she said at one point during his explanation.
Shannon and Gene admitted their relationship has "pretty much unraveled" and you can expect to see it go down on their show.
Gene admitted in an earlier interview with TV Guide, "I'm not perfect. I've got lots of warts on me. The difference between our show and other shows is that we actually show them."
"Oh, we're going to show lots of warts this year," Shannon added in the interview. "There were a lot of things that I kept to myself until they did go to college. A lot of mothers do that. A lot of couples stay together for the children. I think it's an obligation that parents have... you made a commitment, you had children, you should see it through."