NEWS
George Bush Says "I Hope I'm Judged a Success" in Interview with Matt Lauer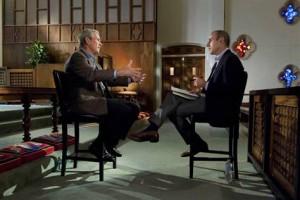 Matt Lauer's interview with former President George W. Bush was filled with mistakes — Bush's confessions of the mistakes he made during his presidency. Still, he hopes to view it as "a success."
OK! NEWS: GEORGE W. BUSH'S "MOST DISGUSTING MOMENT": KANYE WEST CALLING ME A RACIST
In his new memoir, Bush writes about mistakes he made in the White House, personal stories and his hope for the future.
One of the mistakes Bush owned up to during his interview with Matt on the Today show was when he stood under a banner reading "Mission Accomplished" on May 1, 2003. He had said the war in Iraq had ended.
Article continues below advertisement
"No question it was a mistake," Bush said. "If I had to do it all over again, which you don't get to do when you're the president, you know, I'd have said, 'Good going, men and women, great mission' or something."
And the failure to find weapons in Iraq was another error that he has written about in his new book.
"No one was more shocked or angry than I was when we didn't find the weapons. I had a sickening feeling every time I thought about it," Bush wrote. "I still do."
"Was there ever any consideration of apologizing to the American people?" Matt asked
"I mean, apologizing would basically say the decision was a wrong decision," he answered. "And I don't believe it was the wrong decision. I thought the best way to handle this was to find out why. And what went wrong. And to remedy it."
OK! VIDEO: BILL O 'REILLY CAUSES WHOOPI GOLDBERG TO WALK OFF THE VIEW
Another big moment during Bush's interview with Matt was him telling the story of how his mother's miscarriage shaped his pro-life views.
Article continues below advertisement
"She says to her teenage kid, 'Here's a fetus,' " Bush told Matt of his memory of driving his mother to the hospital while she held a jar containing the remains of a fetus. "No question it — that affected me — my philosophy that we should respect life."
"There was a human life, a little brother or sister," Bush said of the jar.
Watch the interview clip below!
OK! NEWS: ESTIMATED 215,000 ATTEND JON STEWART'S RALLY TO RESTORE SANITY
And Bush also offers advice and his hopes for the future.
"I hope I'm judged a success. But I'm gonna be dead, Matt, when they finally figure it out," he joked to Matt. "And I'm comfortable knowing that I gave it my all, that I love America and I know it was an honor to serve."