NEWS
George Clooney Arrested Outside Sudanese Embassy in D.C.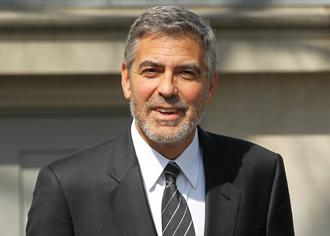 Free George Clooney! According to new reports, the handsome actor was arrested today while protesting outside the Sudanese embassy.
OK! GALLERY: GEORGE CLOONEY TAKES THE AMTRAK TRAIN TO WASHINGTON D.C. TO MEET WITH CONGRESS
According to MSNBC, George was arrested Friday morning and taken away in handcuffs in Washington, D.C., outside the Sudanese embassy.
George and several of his activists colleagues were protesting the country's blockage of food and aid as well as the treatment of its people and were arrested after receiving three verbal warnings.
Article continues below advertisement
George and his father, Nick Clooney, 78, were arrested along with with Martin Luther King III, NAACP President Ben Jealous, Rep Jim McGovern, Rep. Jim Moran and former Rep. Tom Andrews.
OK! NEWS: GEORGE CLOONEY RECALLS BOMBING IN SUDAN — "CLOSE ENOUGH TO FEEL IT"
As it is private property, they could have been arrested for trespassing charges but that remains unknown. The group held a sign that said, "Sudan stop the weapons of mass starvation."
George's arrest certainly drew attention to his cause. He said they were there to ask the government "to stop randomly killing its own innocent men, women and children. Stop raping them and stop starving them."
Watch video of George and his father being taken away in handcuffs, below.
Visit msnbc.com for breaking news, world news, and news about the economy