NEWS
George Clooney Released After Arrest: Unaware He Couldn't "Hang Out" at Sudanese Embassy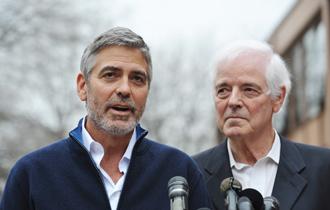 George Clooney wasn't in police custody for long! Just a few hours after he was arrested for protesting outside the Sudanese Embassy, he was released.
OK! GALLERY: GEORGE CLOONEY TAKES THE AMTRAK TRAIN TO WASHINGTON, D.C. TO MEET WITH CONGRESS
George was arrested today, along with his father Nick Clooney, 78, for civil disobedience. The father and son, as well as other protestors, were protesting the country's blockage of food and the treatment of its people.
Article continues below advertisement
Upon his release, George addressed the press and was in his usual joking mood.
"It is on my permanent record," he said of his first arrest (via E! News). "It was really rough, you can imagine... Paid a fine, we were all in a cell together, it was nice."
"Listen, what we've been trying to achieve today is we're trying to bring attention to an ongoing emergency," he explained. "Our job right now is to try to bring attention to it, and one of those ways was, apparently, get arrested."
OK! NEWS: GEORGE CLOONEY ARRESTED OUTSIDE SUDANESE EMBASSY IN D.C.
"I guess we're not allowed to hang out at the Sudanese Embassy," George's dad, Nick, joked. "I didn't know that."
"I didn't know that either," George said.
Guess we know where George gets his sense of humor from! But the two were very quick to bring the attention back to their efforts in helping Sudan.
"We just came back, the real danger of course is there are people dying everyday there…Tens of thousands of people are going to die of starvation," George said of his recent trip to Sudan. "That's man-made. This isn't a famine, this is a man-made tragedy."
He added, "We hope people understand there really is a ticking clock on this and we need to get moving."