NEWS
George Clooney on Running for Office: I've Been With "Too Many Chicks & Did Too Many Drugs"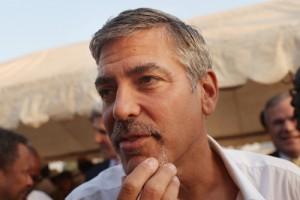 George Clooney may be adding a political voice speaking out as an advocate for the people of Africa, but that doesn't mean he feels he's the right man to run for office.
OK! GALLERY: GEORGE CLOONEY & ELISABETTA CANALIS GET GLOWING IN CABO
George uses his celebrity status to help others by traveling to the Sudan to shed light on the atrocities occurring there.
"If they're going to follow me anyway," he tells Newsweek, "I want them to follow me here."
Article continues below advertisement
But that doesn't mean the 49-year-old actor wants to get too involved with politics.
"I didn't live my life in the right way for politics, you know," he explained. "I f--ked too many chicks and did too many drugs, and that's the truth."
OK! NEWS: GEORGE CLOONEY "DOES NOT HAVE MALARIA"...ANYMORE
But if he did run for office, he'd confess everything in his past right away.
George says he would "start from the beginning by saying, 'I did it all. I drank the bong water. Now let's talk about issues.' That's gonna be my campaign slogan: 'I drank the bong water.'?"