NEWS
George Lopez Pre-Divorce: I Can't Live Without My Wife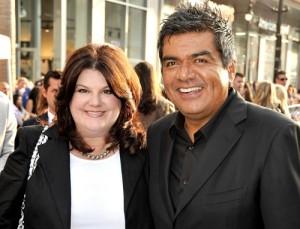 Funnyman George Lopez has followed the footsteps of his dear friend Sandra Bullock — by divorcing his wife of 17 years, Ann Lopez.
Back on June 1, 2009, the married couple were in happier times, arm-in-arm at the L.A. movie premiere of The Proposal to support Sandra (Jesse James was also on hand), and talked to OK! about how they manage to stay out of the headlines.
Article continues below advertisement
"The longer you have been in the business, you just want to do your work and really have your own time to yourself," George told OK! at the El Capitan Theatre alongside Ann. "It's called being reclusive... But being able to have that privacy is important."
The couple also shared their close-knit bond to — the then-also-happily-married Hollywood couple — Sandra and Jesse.
"Jesse and I have been trying to go to Greenblatts in Southgate," George went on. "But we haven't not been able to make that happen yet. They have been to our house, do dinner, and things."
The 49-year-old comedian also shared that the Monster Garage star built him a '51 Chevy.
"It has a Mexican flag on the roof," George gushed. "You will probably see me somewhere in Burbank riding around in it."
When OK! asked the late night talk show host what are five things he cannot live without, George joked: "I can't live without my golf clubs. I can't live without my shoes — some Italian shoes, my jeans... I can't live without sunblock in my hair. And I wouldn't want to go on without my wife. Oh yeah, and my daughter. I forgot I had her! Laughs"
George and Ann are partners in business and their philanthropic organization, The Lopez Foundation, and have a 15-year-old daughter, Mayan.