NEWS
Get in the Mood for Summer with the 7 Best Summer Movies Ever!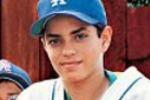 Some movies can only be watched at a certain time every year. It just doesn't feel right to watch National Lampoon's Christmas Vacation in April, does it? It's usually because the film captures that season so accurately that it would be a waste to watch it otherwise, especially for a season as wonderful as summer.
OK! News: Find out which TV show you should watch this summer!
The following is a list of movies that can only be viewed during June-August. No buts about it! They're just what you need to get right into the summer zone.
Article continues below advertisement
Wet Hot American Summer. If you haven't watched this movie by now, surely you've had plenty of friends tell you about the amazing early comedic turns by Bradley Cooper, Paul Rudd (as evidenced below), Elizabeth Banks, Amy Poehler, and tons of others? You know what to do.
The Sandlot. This movie perfectly captures what it's like to be a sweaty, restless kid in the summer (I mean, I didn't grow up as a boy in the 1960s, so I give the benefit of the doubt in that regard).
Dazed and Confused. This movie takes place over one day and night that happens to be the most glorious 24 hours of any kid's life—the last day of school.
Heavyweights. The ultimate, classic camp movie (sorry, Meatballs) was written by Judd Apatow circa 1995. The man has given us so much!
Article continues below advertisement
Camp Nowhere. Another camp movie, but this one had such a genuis shtick: what if kids ran their own camp? What follows is a modern-day Lord of the Flies featuring '90s darlings like Andrew Keegan and Jonathan Jackson—who now plays Avery on Nashville!
Don't Tell Mom the Baby-Sitter's Dead. Do you see a pattern of early-mid 1990s movies centered around kids on this list? This twisted movie showcases an adolescent Christina Applegate trying to make that money after her family's baby-sitter dies and leaves her and her siblings all alone.
What's your all-time favorite summer movie? Did it make this list? What's your favorite camp movie? Tell us in the comments below or tweet us @OKMagazine.