NEWS
Get Your Drink On Golden Globes Style With This Champagne Cocktail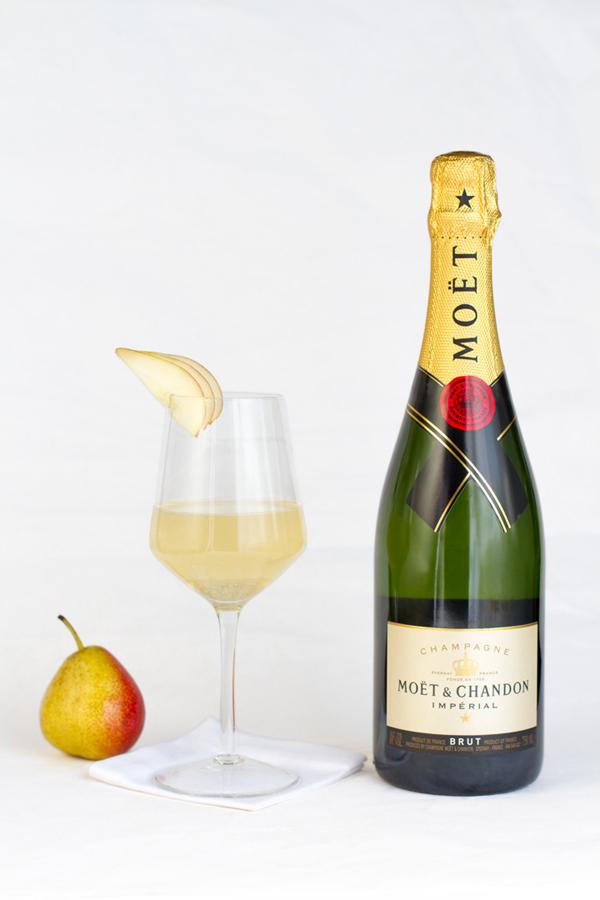 For the first time in its history, the Golden Globes will have its very own cocktail compliments of Moet & Chandon. The Moet Golden Knight is a delicious mix of cardamom syrup, pear brand and champagne and we have the A-list recipe. Wow your Golden Globes party guests with this classy concoction.
OK! News: Find Out How the Stars Will Dine at the Golden Globes
Moet Golden Knight
Makes 6 cocktails
Ingredients
Article continues below advertisement
1/4 cup unrefined granulated sugar
1/4 cup water
20 whole cardamom pods, crushed using the back of a knife or a mortar and pestle
1/4 cup pear brandy
1 (750 ml) chilled Moet & Chandon Imperial Brut Champagne
2 small, ripe Forelle or Seckle pears, for garnish
OK! News: Kiehl's and Alicia Keys Join Forces For Keep a Child Alive
Instructions
Combine sugar and water in a small saucepan, stir to dissolve the sugar add the crushed cardamom pods and bring to a simmer over medium heat. Simmer the simple syrup for 5 minutes, then remove from heat and allow to steep and cool for 20 minutes.
Using a fine mesh strainer, strain the simple syrup, discard the seeds and pods, and place the simple syrup into a liquid measuring cup. Add the pear brandy and stir to combine.
Just before serving, cut the pear off the core and slice pear lengthwise into 1/8-inch thick slices.
To serve, add 1/2 ounce of the pear-cardamom simple syrup mixture to 6 white wine glasses or 6 champagne coupes. Add 4 ounces of chilled Moet & Chandon Imperial Brut Champagne to each glass, filling each glass about halfway. Garnish each glass with three pieces of fanned pear slices and serve.