NEWS
The Girl's Guide To Grilling Cheat Sheet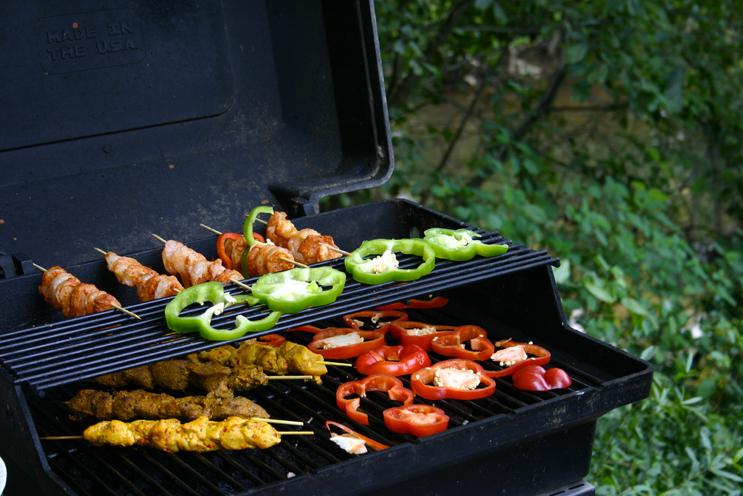 My summer foodie resolution is to get comfortable behind a grill. While I'm pretty savvy in the kitchen, there's something about a grill I find intimidating. With barbecue season officially upon us, it's time to conquer my fear. I called on grilling goddess Elizabeth Karmel, Executive Chef of Hill Country Barbecue Market in New York City and Washington, DC., as well as Hill Country Chicken in NYC, to share her tips for novices like me. With this cheat sheet in hand, I think I'm ready to give it a try. Check it out!
Article continues below advertisement
OK! News: Octavia Spencer Shares Secret to Her Recent Weight Loss
• Indirect vs. Direct Heat
"Know the difference between direct and indirect heat and how to use it," advises Elizabeth. "Direct heat means there's either grey ash charcoal or lit gas burners underneath the food. If you preheat the grill with all the burners on high and cook something that takes 20 minutes or less, you're going to use the direct method, reducing the heat to medium across the board. If you're cooking by the indirect method there's no heat directly underneath the food. You usually put the food in the center of the cooking grate, turn the burner off underneath the food to just have heat on either side of the food, always keeping the lid down. That allows the hot air to rotate around the food, creating that wonderful roasty, toasty crust that we all love on grilled food."
OK! News: Celebrate Memorial Day With These Delish Cocktails
• The Grilling Trilogy
"All you need to make great tasting food are the best quality raw ingredients and then olive oil, kosher salt and freshly ground pepper (also known as Elizabeth's Grilling Trilogy)," she says. "Once you master that you can go on to many other flavoring options. In fact I wrote a whole book called Soaked, Slathered and Seasoned that's nothing but hundreds and hundreds of ways to flavor your food. But I like people to start with the Grilling Trilogy. The salt is essential, the pepper is optional if you don't like pepper, but the olive oil is really important because it has a thick viscosity so it doesn't drip off the food and create flare-ups."
Article continues below advertisement
• Estimate Cooking Time
"Here's a little tip: In case people don't know how long it takes to cook something, because you have to know if it's going to take 20 minutes or less to use direct heat or 20 minutes more if you use indirect heat, think about it this way, the larger it is, the denser it is, the heavier it is, the longer it's going to take to cook," says Elizabeth. "You have to really think about it and that's why I try to drill it down to these common sense tips. If it's heavy, it's going to take longer to cook, if it's lightweight it's going to take less time to cook."
OK! News: Ashley Benson Kicks Off Summer With a Slurpee
• Preheat the Grill
"If you have a gas grill the first thing you do before you start cooking is you preheat the grill," says Elizabeth. "That's very important. Most people don't do that and that is key to getting a good result. When you're using a charcoal grill, if it's direct heat, just have one layer of gray ash charcoal. It's essential to let the charcoal burn until it's covered with a white gray ash because you don't want to start cooking your food while the charcoal is still burning and has flames on it. It will make your food taste funny and the heat won't be consistent."
Article continues below advertisement
• Not All Proteins Are Forgiving
"Bone-in chicken pieces with the skin on are pretty forgiving—they need to be cooked with indirect heat because they can take up to, depending if they're huge, up to an hour to cook," she explains. "Anything with a lot of fat is pretty forgiving, the leaner the food the less forgiving it is."
OK! News: Jennifer Hudson Signs On To Judge New Season of 'American Idol'
• Oil Your Food
" Oil the food, not the grates," instructs Elizabeth. "If you oil your cooking grates you're essentially going to be gluing your food to them because you've preheated the grill so it's hot and the oil burns really quickly and becomes sticky. If you oil the food it keeps the juices inside the food, it promotes caramelization and it prevents sticking."
For additional information on grilling, head to Elizabeth's website Girls at the Grill—it truly has everything you need to know!
What's your summer foodie resolution? Tell me in the comments below or tweet @OKMagazine.