NEWS
The Girls Plan Snooki's Baby Shower, The Situation Makes It Unofficial: 'Jersey Shore' Recap, Season 6, Episode 9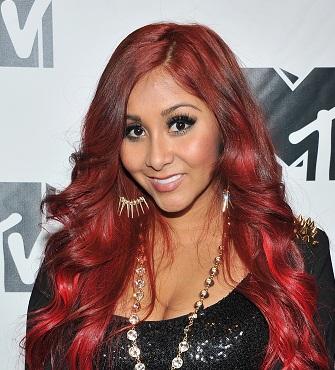 Jersey Shore did an excellent job last night of dragging out the buildup to Mike "The Situation" Sorrentino's breakup with Paula. Holy moly, people. And when it finally happened, did anyone even care? How invested were we in this relationship, anyway?
Was anyone else as disturbed as we were by Mike, Vinny Guadagnino and Paul "DJ Pauly D" DelVecchio sitting around agreeing that since Mike has "hinted" that he is uncomfortable with some of the things Paula says and does and she hasn't picked up on it, the relationship should end? We can only hope this is scripted. Mike has been through rehab. He's remained sober down the shore. He obviously knows how to confront his issues. Pauly further suggests that the breakup be done via T-shirt, an homage to Mike's idiotic way of asking Paula out in the first place. Ronnie Ortiz-Magro even makes a "Let's Make it Unofficial" tank top, which Mike thankfully does not wear. (That doesn't stop Ronnie from donning a "GTB" shirt, though, which he says means Gym. Tan. Break up with Paula.)
Article continues below advertisement
Somewhere in the middle of all this, Paula awesomely yells at Mike on the phone, saying she doesn't appreciate going to work and having her friends tell her he's about to break up with her.
In the end, The Sitch and Paula agree to go back to the way things were before. Does anyone know how much Paula gets paid for appearing on this show? It better be good, because she has to hang out with The Situation and seriously, what would his storyline be without her?
Article continues below advertisement
The only other thing that happened was that Jenni "JWoww" Farley decided to throw a "pre-baby shower" for Nicole "Snooki" Polizzi . We love that she wants to do this, but judging from what we saw of her party-planning skills at Roger Mathews' birthday bash, we're a tad concerned. Jenni explains that since baby Lorenzo is going to be her godson, she actually cares and wants it to be nice. So far, she's on the right track, booking Rivoli's (the backdrop for all of Shore's most sentimental moments) and threatening Snooki's finance, Jionni LaValle, with physical violence if he blows the surprise.
MORE ON:
ronnie magro-ortiz
OK! GALLERY:JENNI "JWOWW" FARLEY AND DEENA CORTESE ARE READY FOR THE FINAL JERSEY SHORE SEASON PREMIERE
Deena Cortese and Sammi "Sweetheart" Giancola go buy Snooki some presents, and Deena recalls her favorite childhood memory of playing with baby keys. We're betting Lorenzo never sees those keys, folks.
Speaking of, Snooki revealed that Mike is definitely not invited to her wedding, and she'd like to invite Vinny, but he has continually dodged taking any responsibility for this whole thing with Jionni. Jenni rightly tries to get him to address it. Jenni is awesome. Even more awesome, we think someone finally addressed what was really important in this scene: Vinny's socks. They were blue this time, and pulled alllll the way up his calves. Did anyone else rejoice when, while leaving the tanning salon after Mike's stupid breakup was over, Vinny was shown not wearing ridiculous tube socks? We did. We hope it wasn't the last time.
Article continues below advertisement
Finally, we want to give a shout-out to our favorite person this week: Sammi! Sammi was the only Shore regular to suggest Mike handle his breakup like a human being, yet she appeared to not quite care enough to really state her case. This how we feel we would react. Congrats, Sammi! (Our runner-up was Jumanji, Snooki's pet balloon penguin.)
Following Jersey Shore this week was a pretty awesome Restore the Shore fundraising special. Did you watch? Did you donate? Did you get to talk to any of the MTV celebs taking calls? Let us know!