NEWS
Giuliana Rancic Sticks to Family Plan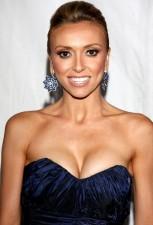 Even though Giuliana Rancic's fertility struggles have been well-documented on her Style Network reality show Giuliana and Bill (season finale airs Sunday at 9/8c), she doesn't feel as if she waited too long to start trying for a baby while getting her career on track.
"I've never been in a rush against time," she tells me. "I feel like everything happens in time. Everything happens when it's supposed to happen, and if you rush things, it's unnatural and you're gonna have problems. For me, I feel like there's a course I'm on, it's destiny, and whatever happens, happens. That's the way I've always lived my life up until now, and it's worked. I feel like 'if it ain't broke, don't fix it,' so I keep going every day. Just go with what the day brings me."
Article continues below advertisement
The E! anchor, 35, hopes for a big family, but she will have some convincing to do with hubby Bill, 38, whom she wed in 2007.
"I would like four or five kids," she tells me. "I come from a big family. I have about 45 first cousins, and we're Italian, so we saw them three times a week. We couldn't escape the family, which we didn't want to – we loved it. I'm used to that. I love big families. I want four or five kids now, but Bill is saying two."
She adds, "I think I'm going to change his mind. He came from four. He has three older sisters. He's the baby, and he gets it. I always tell him 'can you imagine your life without that big of a family?' And he's like 'yes.' No, I'm kidding. He's like 'no.' It's true. He always has friends around, and his sisters. He always had company. It's fun. I think it's more fun. I would like a bigger family."
Article continues below advertisement
The ChapStick FreshEffects spokesperson admits balancing a family and a career will be difficult.
"It's hard. Even the closer we get to the reality of a baby, and having to juggle career and motherhood, the more I think – wow, this is gonna be tough. You want to be with your baby. You don't want to miss out on special moments, like when your baby takes its first steps, you don't want it to be with a nanny, while you're off in New York, interviewing George Clooney. As fabulous as it is to interview George Clooney, there are more important things in life. That's where it gets a little tricky, but hopefully you have a good spouse, which I do, and I know he's going to be an amazing dad. I'm sure the baby will be just fine."
Hm, is she expecting now?
"If I told you, I would seriously probably get fired off of the show, so there's definitely a lot of doctor's appointments, and we're in the midst of the whole baby-making process. Definitely, there will be a baby in the very near future, so we're very excited."
I congratulate her, though, and she backtracks.
"No, no, no, no, no. Not like, for sure. That's the intention. Definitely within the next year or two."
Article continues below advertisement
READ GIULIANA RANCIC GETS FAMILIAR WITH THE REALITY SHOW CURSE
What does she hope to gain from being a mom?
"There are more career women than ever before," she says. "There isn't that desire to have a baby that there used to be. We're pretty fulfilled, even without it. I love my career, and I love Bill. Life's great. But I do think bringing a baby into the picture, from what you hear, it adds a different level of love and happiness to your life. You know. I'm hoping it will make me even happier than I am today, which will be great, because I'm pretty happy. It'll make me really happy if it looks like Bill, because Bill's really cute. And I want it to have everything of Bill's."
The first item on the agenda will be sorting out which city to call home: Los Angeles or Chicago.
"I think we're leaning for now towards L.A., since I'm here every day," she says. "At least while the kid's a baby, and then eventually, when it's in high school, hopefully it will be in high school in Chicago, and Bill will be the coach, and it will be just fabulous."
Catch the season finale of Giuliana and Bill, which airs Sunday at 9/8c on the Style Network. And, visit ChapStick Fresh Effects to find out more about the product.