NEWS
Giuliana Rancic Gets Familiar with the Reality Show Curse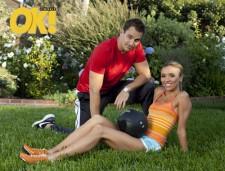 While Giuliana and Bill Rancic may seem like the perfect couple on their Style Network show, Giuliana exclusively confesses to OK! that reality television can be a bit of strain on any relationship.
"We realized pretty early on why this reality show curse exists. It's a very difficult thing to do with your spouse…" Giuliana reveals to OK! of being a part of her hit series Giuliana and Bill while at an event for ChapStick Fresh Effects.
Article continues below advertisement
And with millions of viewers watching their every move on TV, even as the couple struggles to conceive a child, Giuliana realizes that the trouble lies within communication.
"You don't really hear, though, what you're each saying to each other, or what you're both venting about behind each other's backs," the 35-year-old E! News anchor tells OK! on Jan. 5, "But with reality shows, you see it on TV along with millions of people, what the person was saying about you."
Despite the idea of the reality show curse, Giuliana and Bill take a different view on the situation and attempt to fix their relationship with the help of their show as the Italian native reveals to OK!, "We really kind of learn from it a little. We learn from our mistakes. I see things on the show that annoy Bill, and it helps me. In a lot of ways, it's like therapy-the show."
But with tons of others such as Jessica Simpson and Kate Gosselin, who's reality shows ended in divorce, Giuliana knows that the curse only exists when the love isn't strong enough in the first place.
Article continues below advertisement
"If you're a strong enough couple, and you're very secure in your relationship, and you love each other to death, then a reality show can actually be a good thing for the relationship," Giuliana explains to OK!.
Giuliana believes that her relationship with Bill, 38, can stand the test of reality television, while others may have been destined for a break up from the start.
"The big thing is I almost think that reality shows just accelerate the relationship…." Giuliana gushes about other stars that have lost their relationships, "I think a reality show can break you up, but I think it can only break you up if you didn't have a strong enough relationship in the first place, and you would eventually break up."
Catch the doting couple on the Style Network show, Giuliana and Bill, on Sunday nights.
Reporting by Valerie Nome