NEWS
'Glee'-Cap: Religion Roams the Halls at McKinley High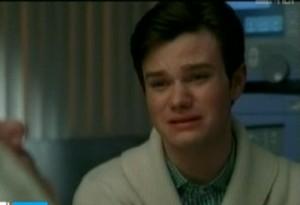 Last night's Glee episode took a 180-degree spin from the sizzling, sensuality of the Britney Spears showdown last week. A morose mood swept over New Directions after Kurt's (Chris Colfer) father, Burt, suffers a heart attack. Meanwhile, Finn grapples with religion after he finds the image of Jesus in his grilled cheese —praying for luck on the football field and in the bedroom with Rachel — which is why the episode was cleverly titled "Grilled Cheesus."
Article continues below advertisement
In the third episode of season two, Kurt finds it hard to believe in any higher power when he has experienced the difficult loss of his mom and backlash from the church for his sexuality.
The tone definitely comes across as a little too "preachy," but the cast performances rocked as always.
Line-up of songs:
"Only The Good Die Young": Puck (Mark Salling) performs the classic Billy Joel ditty.
"I Look To You": Mercedes (Amber Riley) takes on some Whitney Houston.
"Papa, Can You Hear Me?": Rachel (Lea Michele) channels her inner Barbra Streisand, taking on her usual show-stopper tune.
"I Want To Hold Your Hand": Kurt's very emotional take on the The Beatles' classic hit.
"Losing My Religion": Finn grapples with his "Grilled Cheesus" theory while singing this song by R.E.M.
Article continues below advertisement
OK! VIDEO: HEATHER MORRIS IS GLEEFUL OVER BRITNEY SPEARS' THANK YOU GIFT!
"Bridge Over Troubled Water": Another powerhouse performance by Mercedes and back-up from a gospel choir really brought a twist to the Simon & Garfunkel tune.
"One Of Us": For the highly anticipated final group sing-a-long of every episode, New Directions took on Joan Osborne's '90s chart-topper "One Of Us?" leaving the glee club questioning "What if God was one of us?"
For a musical recap of the episode, check out MTV's Jim Cantiello's summary below!
Catch a recap of all the songs HERE!