NEWS
'Glee' Recap: New Directions Finally Wins Nationals & Lindsay Lohan Guest Stars!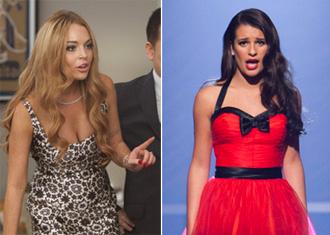 It was a night full of triumph for Glee as the New Directions finally walked away with the coveted first place trophy at Nationals, while Lindsay Lohan made her long-awaited guest appearance!
With two hours of jam-packed musical numbers and crucial end-of-season scenes, the stars of Glee proved that next week's finale will be an episode to remember.
OK! GALLERY: GLEE STARS STEP OUT FOR FOX'S UPFRONT PRESENTATION IN NYC
Article continues below advertisement
The first episode, "Props," showed New Directions preparing for Nationals and focused primarily on Tina (Jenna Ushkowitz), who is sick and tired of Rachel (Lea Michele) hogging the spotlight. But after Tina hits her head and is thrust into a dream world where she is actually Rachel, she realizes that she'd much rather be herself than the confident, overbearing and uber-talented wannabe Broadway star. (We did enjoy seeing the rest of the cast dress up as each other for this fantasy sequence though — Puck (Mark Salling) and Finn (Cory Monteith) as Blaine (Darren Criss) and Kurt (Chris Colfer)? Priceless!)
Eventually, Tina decides to help Rachel out and tries to convince NYADA director Carmen Tibideaux (Whoopi Goldberg) to let her have another shot at her audition. The girls ask Carmen to come watch Rachel perform at Nationals in Chicago to see how talented and determined she really is.
And aside from the Tina/Rachel story arc, we also get a closer look at Puck and Beiste's (Dot Jones) individual struggles. The pair end up connecting over being bullied and inspire each other to stand up for themselves. Beiste finally builds up the courage to leave her abusive husband Cooter and Puck decides to give his final exams another shot with the help of Beiste's tutoring. Will he pass and graduate with the rest of his class?
Article continues below advertisement
Moving on to the second episode, "Nationals," New Directions road-trips to Chicago and gets ready to compete, once again, against Vocal Adrenaline and their coach, Jesse (Jonathan Groff).
After a lot of stress and sleepless nights, the group performs three songs — first the Troubletones sing Lady Gaga's "Edge of Glory," then Rachel performs Celine Dion's "It's All Coming Back to Me Now" and then the whole Glee club close out with Meat Loaf's "Paradise by the Dashboard Light." Plus, Carmen shows up halfway through the performance and is impressed by Rachel's voice!
OK! NEWS: LEA MICHELE MENTORS CONTESTANTS ON THE GLEE PROJECT!
Guest stars and judges, Lindsay Lohan, her media nemesis Perez Hilton and Alderman Fong (Rex Lee) share a funny scene while deciding who should win. They all liked New Directions' incredible performances, but struggle to make a decision after watching Vocal Adrenaline and their key player Unique (Alex Newell), a man in drag who sings like there's no tomorrow, perform The Who's "Pinball Wizard."
But in the end, thanks to Lindsay's love of "the underdog," New Directions wins Nationals and is greeted by a hallway full of fans back at McKinley High. No more geek-squad here.
And to top off the night, Will Schuester (Matthew Morrison), who is already plenty satisfied after Emma (Jayma Mays) finally succumbs to her sexual desires, wins the Teacher of the Year Award. Talk about feeling gleeful!