NEWS
Glenn Beck Gets Response From Sarah Palin: "I Hate Violence"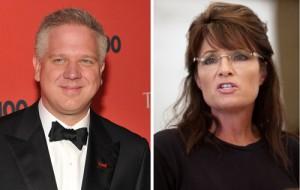 Sarah Palin isn't going to sit back and let people speculate that she contributed to a political violence climate, so she's firing back to Glenn Beck.
OK! NEWS: IS THERE A SARAH PALIN CONNECTION TO GIFFORDS ACCUSED SHOOTER JARED LOUGHNER?
Some critics have reportedly tried to connect Sarah to the deadly shootings in Arizona over the weekend on the basis of controversial statements she has made in the past, including a map with rifle sights set on certain political districts held by Democrats. One of those included shooting victim Rep. Gabrielle Giffords' district.
Article continues below advertisement
"I hate violence. I hate war," Sarah wrote in an email to Glenn, AOL News reports. "Our children will not have peace if politicos just capitalize on this to succeed in portraying anyone as inciting terror and violence."
Glenn, a right-wing talk show host, read the e-mail on his show this morning.
"I want you to know you have my support," he said in response to what he read. "But please look into protection for your family. An attempt on you could bring the republic down."
OK! NEWS: SARAH PALIN'S SHOW GETS THE AX
Glenn says he wrote to Sarah over the week to encourage her to seek protection.
Giffords was shot in the head on Saturday and is now in a medically induced coma. Six people were killed at her political rally in Tuscon, Ariz., including a federal judge and a 9-year-old girl, who was the second cousin of Sophia Bush.