NEWS
Sarah Palin's Show Gets the Ax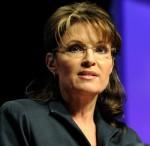 Sarah Palin's Alaska, we hardly knew ye. Despite epic ratings in the first episode of TLC's show, viewers won't be taken back to Wasilla any time soon. That is, not if the cable network can help it. Last night, the two-hour finale of Sarah Palin's show was apparently its last.
OK! NEWS: SARAH PALIN AND KATE GOSSELIN TAKE OVER TLC & THE OUTDOORS
According to an Entertainment Weekly report, a second season has not been renewed for Sarah's show, which pulled in 3.2 million viewers each week. As for speculation? If she committed to another season, it could be interpreted as a sign that she didn't have any plans to run for political office. And by walking away from the show, insiders say it's actually helping the network; otherwise they would have had to provide equal time on their own for her fellow candidates.
Article continues below advertisement
So for now, it's buh-bye to caribou hunting and Eskimo bingo.