NEWS
Golden Couple Brad & Angie Glow at 'Salt' Premiere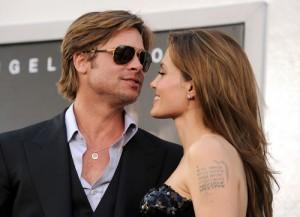 Hollywood's golden couple, Brad Pitt and Angelina Jolie, glowed as brightly as ever last night at the premiere of Angie's latest action flick, Salt, showing everyone just how in love and happy they are together. From the moment they arrived arm-in-arm to greet their fans, take pictures and sign autographs on the red carpet, it was clear that the Jolie-Pitt partnership is a loving one indeed!
As they continued to smile and make their way past the photographers and fans, Angelina stopped to chat with reporters while Brad stayed mum and let his lady shine.
Article continues below advertisement
Angie also admitted that it was nice to get out and do all those stunts, after staying home in a nightgown for so long!
"I hadn't worked for over a year. I had two babies. I was home in my nightgown a lot, so it was nice to get out and get really aggressive and physical. It was a nice balance."
OK! VIDEO: ANGELINA JOLIE — "WE STILL LOVE THE IDEA OF HAVING MORE CHILDREN"
Reporting by Gena Oppenheim