NEWS
Golden Globes Host Ricky Gervais Tells Ellen DeGeneres He's Ready!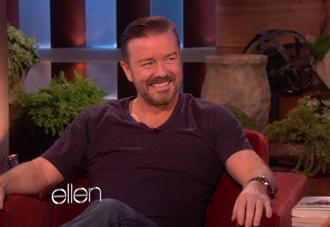 After the criticism Ricky Gervais received last year after he hosted the Golden Globes he said he'd never host it again. Yet here we are, three days away from the 2012 Golden Globes with Ricky as the host! The comedian stopped by The Ellen DeGeneres Show to defend his jokes from last year and share how he's getting prepared for Sunday.
OK! GALLERY: STARS SURPRISE ON THE GOLDEN GLOBES RED CARPET
"I knew what I was doing — it was stand-up. I know where the gasps are going to come. I know when the laughs are going to come … I knew all that," Ricky told Ellen DeGeneres on her show. "But I didn't think the press would... I mean you usually have to kill someone to get that many column inches. They were still talking about it, so I was shocked at the reaction."
Article continues below advertisement
And Ricky really doesn't understand what he said that was so wrong!
"I don't think I was nasty. If they saw my stand-up, their heads would explode," he said. "People say, 'Is there anything you shouldn't joke about?' I don't think there is. I just think it depends what the joke is. I think comedy comes from either a good or a bad place, and I was just teasing them, ya know? It wasn't a room full of wounded soldiers. These are the richest, most privileged people in the world."