NEWS
Ricky Gervais on Golden Globes Jokes: "What Did I Say That Was Untrue?"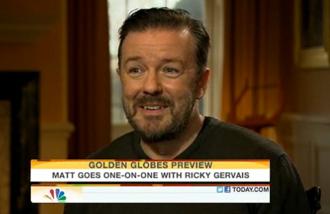 Despite receiving terrible reviews for the jokes he made at last year's Golden Globes, Ricky Gervais was invited back to host the show for a third year. And he won't be under any restrictions! Ricky told Matt Lauer on Today that he can say whatever he wants during the show this year!
OK! NEWS: RICKY GERVAIS GOLDEN GLOBES 2011 — COMIC HITS HOLLYWOOD HARD IN OPENING MONOLOGUE
Ricky was criticized for some of the jokes he made about the celebrities attending the Golden Globes last year. Everyone thought he wouldn't be invited back, but Ricky proved them wrong.
Article continues below advertisement
"I don't know what I did wrong, really. What did I say that was untrue? I made a joke suggesting that Charlie Sheen might like a night out," Ricky explained to Matt on Today. "I said that Robert Downey Jr. spent some time in clinics. And he did. I'm not judging him by that; it's a joke."
OK! NEWS: JOHNNY DEPP GETS BACK AT RICKY GERVAIS FOR GOLDEN GLOBES JOKE
No matter the consequences, Ricky says he is free to do whatever he wants during the show.
"And they don't know what I'm going to say," he said. "And they won't know what I'm going to say until I say it."
Looks like we can expect to see a very entertaining show!
Ricky added, "I might even really be drunk."
Watch a clip of Ricky's interview, below.
Visit msnbc.com for breaking news, world news, and news about the economy