NEWS
'Gossip Girl' Threesome Spans Two Episodes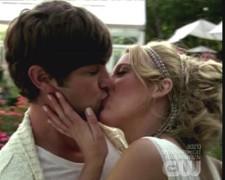 Attention Upper East Siders, Gossip Girl here. Looks like the upcoming threesome will be bawdier than expected. The tryst will not merely be limited to one steamy hour, but rather carry into a second episode the following week, Nov. 16, flush with flashbacks and more dirty details, according to E! News.
Looks like the Parents Television Council won't be to pleased.
PTC President Tim Winter told the Associated Press that airing the episode is "reckless and irresponsible" and has urged CW affiliate stations not to air the episode.
Article continues below advertisement
"Will you now be complicit in establishing a precedent and expectation that teenagers should engage in behaviors heretofore associated primarily with adult films?" Winter asked in a letter to the affiliates of the CW.
Now, the PTC will have to fight twice as hard to get the episodes off air.
Still no clues on what characters are involved in the dirty deed... find out Monday at 9 p.m.