NEWS
Guess Who Wears Becki Newton's Pants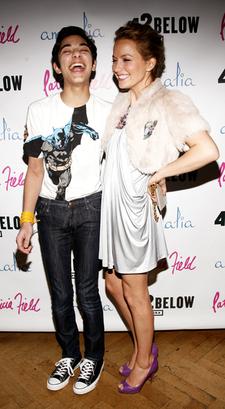 Like most groups of friends, the Ugly Betty cast like to share clothes.
But which co-star do you think Becki Newton gives her jeans to because they look better on them than they do on her?
America Ferrera? Anna Ortiz? Rebecca Romijn, maybe? No, it's... Mark Indelicato.
The 15-year-old actor was sporting just one of many pairs of the hand-me-downs at Sex and the City designer Patricia Field's birthday party on Feb 15.
Article continues below advertisement
"These are my favorite skinny jeans by Becki Newton -- that Becki Newton gave to me," he said at the bash held at D'Or at Dream Hotel in New York City.
"I have way too many pairs," explained Becki, "and I don't like to have a lot of stuff, so I said to Mark, 'do you want some of my jeans'?
"And when I realized he wore them this well, I started giving him lots and lots of jeans."
So is it just the pants, or does Mark raid her whole closet?
"No — there's nothing else he'd want in my closet!," said Becki.
By Oliver Coleman