NEWS
Guy Ritchie Gets Into the Music Business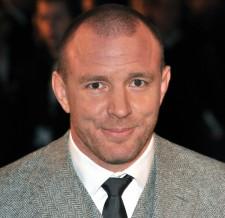 Although Guy Ritchie and Madonna aren't making sweet music together anymore, he did learn a thing or two about the music business. Guy believes the Irish folk group, The Punchbowl Band, who regularly play at his London pub The Punchbowl are such good musicians that he's investing in them and launching a music label!
The Sherlock Holmes director thinks the timing is right.
"It's exciting to venture into the music industry," he tells Contact Music.
Article continues below advertisement
"It's a tough place but I've seen this band connect with people," he added. "They have every chance of being embraced by a wider audience."
The band already has their number one fan!
Justin Timberlake has performed previously with The Punchbowl Band and said, "Jamming with the guys was the best fun I have ever had without a woman."
The band is made up of Willy Barr, Brendan McAuley, Steve Mulhern and Daniel Gott. Their debut album Journey will be released March 1 through Guy's Punchbowl Records, a subsidiary of Universal Records.