NEWS
Hailey Glassman: Kate Gosselin is a "MILF"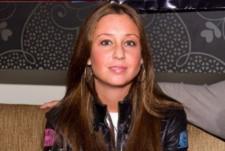 Now that her relationship with Jon Gosselin is over, Hailey Glassman is sucking up to Jon's ex, Kate Gosselin. In a new interview, Jon Boy's former lady friend even goes as far as calling Kate a "MILF" in response to the new, heavily extended 'do K.Goss sports on a recent magazine cover.
"I like it! It's a little shocking due to how short it was before," Hailey tells Entertainment Tonight.  "I think a new look is a new start and happier times. She's like fine wine. Better over time. Did I mention how great her body looks? I wonder who her surgeon is?"
Article continues below advertisement
This last question is an obvious reference to Hailey's father, the plastic surgeon who did some body work on Kate following the birth of her sextuplets.
Hailey and Jon split last year, and the tension between the couple grew when Hailey was accused of breaking into Jon's apartment and trashing it.
"Jon's poison. He plays the victim when he is the villain," she said. "This is also a way for her to throw it in his face. Jon always gave her sh** about having short hair. Props to Kate. She can now be a MILF!"