NEWS
Halle Berry Talks "Frankie & Alice" and Daughter Nahla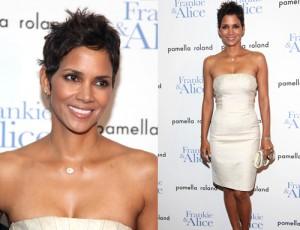 Halle Berry attended a special screening of Frankie & Alice at Cinema 2 on Wednesday in NYC. The Oscar-winning actress is going for her second statue in the film, in which she portrays the true story of a woman with multiple personalities, one of which is a white supremacist. Halle opened up at the screening about making the film and whether or not her daughter Nahla Aubry might have an Oscar of her own one day.
Article continues below advertisement
Halle's intense performance in Monster's Ball earned the actress her first Oscar in 2001 and now she is once again taking on a complex, troubled character — but she seems to enjoy the challenge.
"It's nice playing a heavy character like this and then going back to real life and just having a newborn baby and all the wonders that new motherhood brings," Halle told reporters.
Halle has been working on the film for 12 years now, in which time the actress has been involved in a hit-and-run, divorced her ex-husband Eric Benét, began and ended a relationship with supermodel Gabriel Aubry, and had her first daughter, Nahla, with Gabriel.
All that, and she never lost sight of Frankie & Alice? That's dedication!
OK! NEWS: HALLE BERRY OPENS UP ON LOSING NAHLA IN DEPARTMENT STORE
"If I get my mind set on something, I'm pretty relentless," explains Halle. "It's hard for me to get unstuck once I'm stuck. And I just believed in the story. I believed in the triumph of this woman and I thought that if in some way it could shed light on the stigma of mental illness it would be a good thing for people to have a little bit more compassion for people who suffer. The minute I heard this woman's story, I was intrigued by it and I was determined to get it to the screen."
MORE ON:
OK Galleries & Photos
Article continues below advertisement
Halle even did detailed research on psychiatry through reading books, watching tapes and talking to doctors in the field in the hopes of better understanding her character.
OK! EXCLUSIVE: HALLE BERRY & OLIVER MARTINEZ'S GREEK DINNER DATE
We wonder whether Halle's passion for acting might inspire Nahla to follow in her mother's footsteps.
"You know, that's really up to her," Halle speculated to OK!. "That's years away. She's only two."
By Sadie Gennis with reporting by Evan Real