NEWS
Halle Berry Thanks Ex Gabriel Aubry for His Sperm?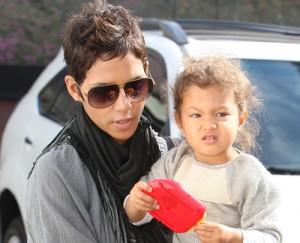 The nasty rumors keep raging on between Halle Berry and her ex Gabriel Aubry and their custody battle seems to be turning very ugly. A new report suggests that Halle is only grateful for one thing when it comes to her past relationship with her daughter's father — his sperm donation.
"You were only good for one thing... Thanks for the donation," the Oscar-winning actress allegedly wrote in an email according to Radar Online.
Article continues below advertisement
Halle and Gabriel began dating in May 2005 and split last April.
After their split, the exes reportedly maintained an amicable relationship for their now two-year-old daughter Nahla.
In December, however, things began to go sour when Gabriel filed a paternity petition.
Accusations began flying, claiming Gabriel was a racist and put Nahla in harm's way.
On the other end, Gabriel allegedly accused Halle of neglecting their daughter at times and being to focused on her new relationship with actor Olivier Martinez.
Both sides have released statement of their own, recognizing that they are dealing with a custody battle.
Halle has dropped out of the New Year's Eve movie to focus on the "custody issues."
Article continues below advertisement
Gabriel's camp also released a statement on his behalf.
"While Gabriel is disappointed in Halle's decision to falsely malign him publicly and for her own purposes, he refuses to be pulled into her dispute over a canceled film production. Gabriel also refuses to air their issues in the press as he believes this may ultimately harm their daughter. The fact is that Gabriel is a caring father who shares custody of Nahla," he said in a statement to Access Hollywood said.
"Gabriel fully believes that a consistent and balanced living situation and two loving parents are crucial for their child even if Ms. Berry feels otherwise. He will always defend his rights as a father and will always consider Nahla's best interest. Halle's continuing allegations in the press are untrue and irresponsible."
Whose side are you on?