NEWS
Halle Berry's "Nagging" Drove Boyfriend Gabriel Aubry Away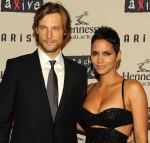 With various problems being cited as the reason for Halle Berry and Gabriel Aubry's split, one report alleges that the real kicker wasn't the nine-year age gap, but the actress' nagging.
Radar Online alleges that Halle constantly needled her model beau about his earning power.
OK! NEWS: HALLE BERRY & GABRIEL AUBRY SPLIT
"Gabriel is by no means poor," a source close to the situation tells the Web site. "He makes a good living as a working, in-demand model. He earns in the region of $700,000 a year, a great income by most people's standards, but still considerably less than Halle is able to bring in financially for a movie or one of her endorsement deals. When they first got together it wasn't an issue, they were in the first bloom of love and neither of them gave it a second thought."
Article continues below advertisement
OK! NEWS: HALLE BERRY AND NAHLA SOAK UP THE CALIFORNIA SUN
"As time went on though, Halle started getting dissatisfied with how much Gabriel was earning and started nagging him to contribute more," the source claims.
"This really grated on Gabriel — he basically put his career and his acting aspirations on hold when Nahla was born so Halle could concentrate on her career," the source says, "and now she was berating him over it — it was like he just couldn't win."
OK! NEWS: HALLE BERRY CATCHES TWILIGHT FEVER
The next challenge for the estranged pair is the future of their daughter. "Gabriel's main concern, and love, has always been Nahla. He will do anything in his power to protect that little girl," says the source.
"If that means moving her to a different country to give her a chance at a normal, healthy upbringing then so be it," the insider claims. "One thing is for sure: Gabriel will not let Nahla be brought up in some crazy Hollywood media frenzy."