NEWS
Halle Berry's Nanny Afraid of Her Ex Gabriel Aubry: "I Am Truly Fearful He Will Hurt Me"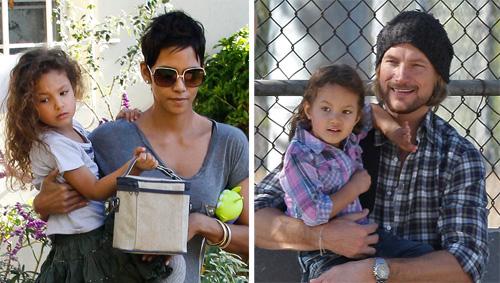 Article continues below advertisement
"I believe that Mr. Aubry resents the court order requiring that he have a nanny, and that his resentment has developed into dangerous and aggressive behavior toward me, particularly when I am in the presence of Nahla," Alliance said to the court, according to CNN. "I am truly fearful he will hurt me and in the process hurt Nahla as well."
Alliance adds that Gabriel, who Halle took to court last year due to custody issues, is "verbally abusive" toward her and is a threat to Nahla's well-being.
Alliance explained that as she arrived to pick up Nahla for school the other day, Gabriel was furious and began screaming at her to leave.
"While he was screaming at me, Nahla reached up her arms to me for me to pick her up, which I did. Nahla put her head on my shoulder. Mr. Aubry violently pushed me while I had Nahla in my arms, against both my shoulders with both of his hands," Alliance claimed.
Article continues below advertisement
"I was thrown in to the wall behind me while still holding Nahla," she added. "I was terrified. The push was so forceful that if there had not been a wall behind me to stop the force of my movement I would have fallen down with Nahla in my arms. He then slammed the door. I got away with Nahla as quickly as I could."
OK! NEWS: HALLE BERRY CLAIMS GABRIEL AUBRY PUT THEIR DAUGHTER AT RISK
The judge has rejected Alliance's request, saying her grounds for a restraining order are "insufficient and speculative."
"If there are concerns they should be resolved in family court," the judge wrote on the denial sheet, according to CNN. "You can proceed with any personal criminal charges against Mr. Aubry."
Halle was reportedly in a Los Angeles court to ask the judge for a no contact order against Gabriel, until his child endangerment investigation is complete.
We'll see how this all pans out....