NEWS
Hang With the Jonas Brothers For Charity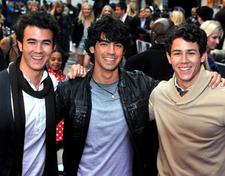 Getting a chance to hang out with the Jonas Brothers and giving to charity? Should be an easy decision for fans who want to meet Nick, Kevin and Joe: During the boys' 100-city tour, they'll be taking time to greet fans backstage before their show, promoting their new album, Lines, Vines and Trying Times.
Fans can cruise over to CharityFolks.com to get their tickets and enter to chill with the JoBros. Proceeds will go to their personal charity, Change for the Children Foundation.
Article continues below advertisement
In 2008 the Jonas Brothers were the celebs that earned the most on CharityFolks.com, raising almost $500,000 for their charity by way of offering VIP meet-and-greets with fans.
RECENT JOBROS PICS: