NEWS
'Harry Potter and the Deathly Hallows Part 1' Topless Kiss Scene Review: "It's Really Creepy"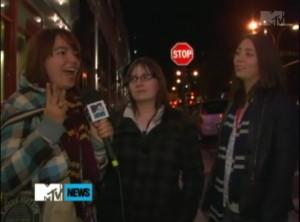 One particular scene in Harry Potter and the Deathly Hallows: Part 1 has taken some fans by surprise. The hallucinatory kiss between Harry and Hermione is being described as "really creepy" and the fact that Emma Watson is topless for it may have something to do with it!
OK! GALLERY: STARS BRING BLACK MAGIC TO THE BIG APPLE FOR HARRY POTTER PREMIERE
MTV News caught up with fans as the exited the midnight screening this morning of Harry Potter and the Deathly Hallows: Part 1 and found out that the topless kiss scene was the one everyone was talking about!
Article continues below advertisement
"They're totally topless and it's really creepy," Emma Larson told MTV News.
And other fans agreed calling it "awkward" and "disturbing" too!
OK! VIDEO: WATCH THE HARRY POTTER KIDS LEARN TO SPEAK AMERICAN
Emma thought the same thing when she learned she'd have to kiss her co-star Daniel Radcliffe topless.
"It was only the day before that they said, 'Oh, by the way, we hope it's all right, but we want you to be topless, and we're going to cover you in silver paint,' " Emma told MTV earlier this week. "It was awkward enough as it was without the silver paint and the strapless bra, but whatever. It works."
MORE ON:
Harry Potter And The Deathly Hallows
OK! NEWS: THE PHILMGUY REVIEWS — HARRY POTTER AND THE DEATHLY HALLOWS: PART 1
But some fans who have now seen the film weren't sure if it worked or not.
"It was a little awkward," Jane Howe told MTV. "It was not a natural kiss, and they were naked, which added a whole other aspect to it."
"That was pretty intense," Hillary Brens agreed. "I think a lot of fans wanting that relationship to happen — they finally got it."
Have you seen Harry Potter yet? Did you think that scene worked?