NEWS
'Harry Potter' Studio Tours Coming Soon!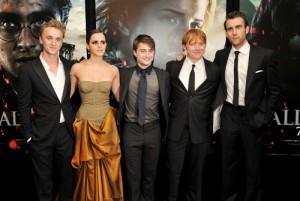 Official "Making of Harry Potter" studio tours will be opening soon at the original studio site northwest of London and even the cast is looking forward to it!
OK! NEWS: DANIEL RADCLIFFE TALKS HARRY POTTER FANS FAINTING & AWKWARD KATIE HOLMES MOMENT
Soundstages and sheds are being carefully reassembled for the March 31 opening of Harry Potter studio tour, The Associated Press reports.
Warner Bros. will be recreating the magic for Potter fans on the 150,000-square-foot site that will features authentic sets, props and costumes.
Article continues below advertisement
OK! GALLERY: SEE DANIEL RADCLIFFE HOLD HANDS WITH HIS MYSTERY GIRLFRIEND
Former Harry Potter stars are excited about the studio tours and think fans will be too.
"I get shudders down my spine every time I walk back in there," Tom Felton, aka Draco Malfoy, said. "Immediately, as soon as you go back it just fires up a decade's worth of memories."
"I hope people will come on the sets and feel the warmth on the sets, and the experiences that have been here," Bonnie Wright, or Ginny Weasley, explained. "They're really lived in, all the sets. They don't feel just like a studio, they do feel like a world."
But Tom also thinks the tours may be useful for him in the future!
"And if the work dries up," he said, "we can always come back and be tour guides."