NEWS
Heidi Klum to Host VS Fashion Show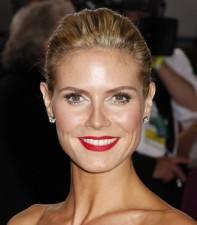 New hot mama Heidi Klum will not be strutting down the runway at the Victoria's Secret fashion show this year, but she'll still be a main attraction, E! News reports.
Instead of walking down the runway in a million-dollar bra, like the signature angel did in the past, Heidi, who gave birth just three weeks ago, will be hosting the entire event.
Even before their baby girl Lou arrived, Heidi questioned her return to the VS runway.
Article continues below advertisement
"The last time I gave birth, I had two months, and I don't know if I have that much time this time," Heidi told E! on the red carpet back in August. "It was pushing it the last time. But if I don't make it, I'm sure I'll be very sad."
This year, the star-studded show moves back to the NYC for the first time since 2005 and will take place at the Armory. The show tapes this month and airs on CBS in December.
The Black Eyed Peas will perform, and as always there will be an A-list afterparty, complete with lingerie-clad supermodels.