NEWS
Heidi Montag Drops Out of New Reality Show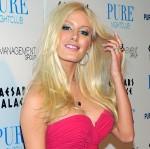 Heidi Montag has dropped out of her new reality TV show, leaving her old friend Jennifer Bunney to start filming without her.
The original show planned to feature Heidi and Jennifer living together over the summer, but it seems the soon-to-be ex Mrs Spencer Pratt has changed her mind, reports Radar Online.
OK! NEWS: SPENCER PRATT CRASHES THE HILLS FINALE
"She didn't directly tell me she didn't want to do the show anymore. I heard it through other people," Jennifer tells the Web site.
Article continues below advertisement
"She's just going through so much with her divorce and she just doesn't want to do reality television."
OK! NEWS: THE HILLS STARS SAY A TEARFUL GOODBYE
Jennifer clarifies: "We're not in a fight, I'm not upset at her, she's not mad at me. I would love her to do the show.
"I'm hoping that once the show is rolling and a few episodes air, she'll join in. I really want her to do it but I don't want to push her into something she doesn't want to do."
"She's going through a lot but I don't understand why Cougar doesn't call or say how Heidi is. I've been her friend for years, before she got famous, before the surgeries, before Spencer... Heidi doesn't even know that I broke up with my boyfriend."