NEWS
'The Hills' Stars Say A Tearful Goodbye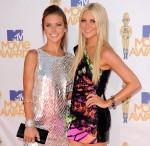 The cast of The Hills gathered last night to say goodbye during a live screening of the hit reality show's bittersweet finale.
"I feel like I'm kind of graduating but it still hasn't hit me, it doesn't feel like it's the end," Audrina Patridge told reporters at The Hills Series Finale Live at L.A.'s Roosevelt Hotel last night, adding, "I feel really good. I feel like I'm only moving up."
Article continues below advertisement
She has also made amends with Lauren Conrad after their falling out on the MTV series. "I actually saw her the other night... It's the finale, and I'm so glad she's here."
Does her post-Hills future involve Corey Bohan? "I enjoy spending time with him, he's an amazing person and... that's that," Audrina said.
OK! NEWS: TOP OF THE HILLS — THE SHOW'S MOST MEMORABLE MOMENTS
But she admitted she doesn't consider herself single. "Corey's always been that guy in my life that I've always loved and it's been hard with me filming The Hills and him going back to Australia," she said, "but now we can really make it work because I'm not on such a strict schedule."
Next up for the brunette is her own reality show. "It's not confirmed yet but you know... but it'll be about my life outside The Hills, my family, everything... living in L.A., my Orange County life, trying to make it through my crazy life."
OK! NEWS: SPENCER PRATT'S CRYPTIC TWEETS: WILL HE MAKE THE HILLS PARTY?
The show's original star, Lauren, arrived to give The Hills a final send-off although she admitted she hasn't watched it since she left in season five.
Article continues below advertisement
"I actually didn't see this season," she said. "I watched my final episode and I really liked how it ended and that was kind of when the show was done for me."
OK! NEWS: AUDRINA & KRISTIN: "WE ARE GOING OUT WITH A BANG"
Any regrets about being on the show? "I don't think I have any regrets," she said. "I'm happy about when I left, I think it was the right time for me. I probably have a million regrets about the stuff I did on the show!"
Well, she may want to change one of her lines when she used the word "sucky" instead of cursing. "You know what, that's so lame because I didn't want to cuss on camera! So "sucky" was the first word that came to my head and it follows me everywhere! Who says that? That's not my favorite!"
OK! NEWS: JASON WAHLER ARRESTED FOR BATTERY
Lauren's life is busy post-Hills: "I have a book tour starting October 5, a style guide, and the third novel in the L.A. Candy series, so that'll be fun."
Article continues below advertisement
But one thing she won't do again? Reality TV. "I love doing the books, I love doing the clothing line, but I really did enjoy doing television. I don't think I'd ever do reality that revolved around my personal life again! I think I got my fill!"
OK! NEWS: HEIDI MONTAG MAKES A SAD SPECTACLE POST-SPENCER SPLIT
She also reflected on how being on The Hills changed the stars' lives. "I think it's still unbelievable all of the attention that we have received. At the height of the show, I don't think it ever really caught up with me. It's really cool to look back now at all the stuff that we got to do. I was happy to be a part of it."
And Lauren has made peace with long-dead friendship with Heidi Montag. "I honestly have not spoken to her in the longest time. I can't really say anything about her because I don't know her."
OK! NEWS: SPENCER PRATT SPEWS MORE HATE ON LAUREN CONRAD
Meanwhile, Lo Bosworth is so busy with her new lifestyle website, TheLoDown.com that she hasn't got time to mourn the end of The Hills.
"We're talking about relationships, health and fitness, beauty, style and life. I've gotten an overwhelmingly positive response from everybody on Twitter who were reading it, so I'm really, really thrilled that people are liking it," she said.
Article continues below advertisement
OK! NEWS: THE HILLS SAYS GOODBYE AFTER 12 FINAL EPISODES
"I have a book coming out in January, and I have a lifestyle show that's in development right now that I'm gonna host!"
What will she miss about the MTV series? "I really just loved working with the cast and crew and having that relationship. It has been an overwhelming positive experience. A few glitches here and there, but with any job, I think you find the good and the bad, but I definitely will miss the cast and the crew the most."
OK! VIDEO: LAUREN CONRAD TIGHT-LIPPED ON HEIDI MONTAG'S SURGERIES
Stephanie Pratt credits her time on the show with giving her an education in life, saying if she hadn't been a cast member she'd be "so naive." "I definitely would be in school and I would be very naïve. I have just gotten a lot smarter," she said.
"I don't trust anyone anymore, but I have more self-confidence and more self-esteem. I have been through a lot growing up and had a lot of issues so I feel like this made me stronger as a person."
OK! NEWS: STEPHANIE PRATT WON'T BE SPENDING TIME IN THE SLAMMER
Having been booked for DUI, Stephanie has a word of advice for Lindsay Lohan. "When I got in trouble again, instead of spiraling, I took it as a positive and I was on trial. I took it as God was testing me and if she just does her time and gets the help, I see her having a great comeback. I really think to always keep a positive outlook on everything."