NEWS
Heidi Montag "Saves the Day With Her 3-D Boobs" in New Comedy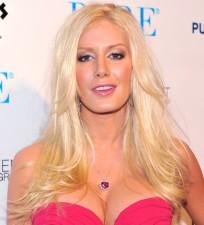 Heidi Montag is not dwelling on the final season of The Hills — the MTV hit reality show which was her claim to fame — but rather looking on to her next career move, film star!
"I'm so excited The Hills is finally over and I can now become a full time motion picture actress," Heidi told Access Hollywood in a statement.
OK! NEWS: THE HILLS SAYS GOODBYE AFTER 12 FINAL EPISODES
She feels her role as reality star was the perfect launching pad for next move as movie star.
Article continues below advertisement
"There is no better training for an actor than being in front of the cameras 24-7," she said.
We already know that Heidi has a small role in Adam Sandler's new comedy Just Go With It, which stars Jennifer Aniston, who Heidi couldn't be more excited to work with.
Just Go With It along with her new Funnyordie.com video (directed by legendary Ron Howard) has given Heidi the direction she needs to launch her film career, according to the reality star.
OK! GALLERY: HEIDI MONTAG MAKES THE MOST OF HER MOVIE CAMEO
"After working with Oscar-winner Ron Howard on a short film project and then working for days with the comedic genius director Dennis Dugan and his team of brilliant comedy visionaries at Happy Madison on Just Go With It starring Adam Sandler and Jennifer Aniston, I have been able to truly find what makes me the happiest in life," she said.
Article continues below advertisement
Heidi told Access she is really looking forward to "getting to truly show the world my creative ability… while playing… different characters."
One of those characters she created herself in a script she wrote!
"I am making the first 3-D beach comedy about a shark that attacks a small beach town and I save the day with my 3-D boobs," Heidi said. "I've even written a role for Dolly Parton to play the town mayor!"