NEWS
Helen Mirren "Not Invited" to Co-Star Russell Brand & Katy Perry's Wedding!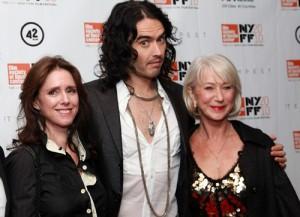 Russell Brand may be co-stars with Helen Mirren in two films (The Tempest and Arthur), but that doesn't mean she scored a coveted invite for his wedding to Katy Perry! The Oscar winning-actress revealed at the NYC premiere of her latest Shakespearean-based film, that she had not been invited to Russell and Katy's upcoming nuptials!
When OK! asked it Helen would be attending the wedding, the gracious actress laughed if off, responding, "No, no, I haven't been invited."
Article continues below advertisement
Helen has even met Katy and "her parents"!
The co-stars seem to share true admiration for one another, which makes it odd that Russell wouldn't extend an invite.
He even admitted recently to having the desire to "snog" Helen. Maybe this would make Katy jealous?
As for Helen's opinion of Russell she shared with reporters, "He's an extraordinary actor. He's brilliant.
The Tempest director Julie Taymor was also excluded from the guest list.
When asked by reporters what gift she was getting the duo for their wedding, the Oscar-nominated director responded, "I haven't thought about it, because I wasn't invited."
But, no hard feelings on Julie's part either!
Regardless of the status of her invite, Julie still finds Russell to be a "beautiful guy," and feels "he's going to evolve into being one of our great actors."
Article continues below advertisement
OK! NEWS: RUSSELL BRAND ON HAVING CHILDREN — "IT WOULD BE A LOT OF FUN"
"He is the nicest, must fun, spontaneous, intelligent, classy guy," she continues. "And well-read and extremely perfect for the role. He's just perfect. In real life he's not exaggerated. He's interesting and he's had an interesting life. But he is a court jester, in the contemporary sense of the word. He is a comedian. And he does criticize our culture, so he's perfectly cast as a court jester."