NEWS
Helen Mirren's Tip to Gain Confidence: "Four-Inch Platforms"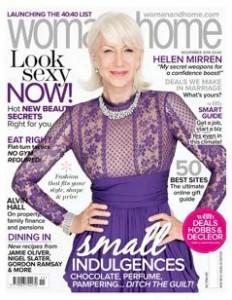 Dame Helen Mirren is an amazing actress, especially when it comes to acting confident about her body. She is up for anything, from wearing revealing dresses to wearing nothing at all at times, but that's only because of her little tricks and secrets, some of which she kindly shares in the new issue of the UK's Woman & Home magazine.
OK! GALLERY: RUSSEL BRAND TAKES THE LEAD IN ARTHUR
"I'm just like everyone else — I have days when I feel great and days when I don't feel so good, Helen tells the UK's Woman & Home. "I'm not a terminally confident person."
Article continues below advertisement
However, she's been forced to pretend to be confident.
"I'm often thrown into situations where I don't feel confident and I've had to learn how to pretend to be," the actress explains. "It's a funny thing, but when you start acting confident, then you start to feel it."
OK! GALLERY: RUSSEL STRIPS DOWN IN CHURCH FOR ARTHUR
Helen confesses she does have "some personal secret weapons for giving me a confidence boost when I need it."
"Four-inch platforms give you great height and make your legs look unbelievably long," the 65-year-old star says. "I used to only be able to get them in stripper shops, but now you can buy them everywhere – although, unfortunately, that means everyone else has discovered the trick too!"
"Holding your tummy in is another trick for making you look and feel good," Helen adds. "I do, by nature, hold my tummy in. I think it comes from being on stage. Posture is something I've had to be aware of for years."
OK! GALLERY: HATS OFF TO ARTHUR STAR RUSSEL BRAND!
Still, Helen admits that good makeup doesn't hurt.
"A lot of looking good is simply down to good makeup. Wait until you see me in The Tempest – you won't be saying I look good then," she warns. "Everyone will be saying, 'Oh, my God, what the hell happened to Helen Mirren?' "
Somehow we think people will be impressed by Helen's confidence even then!