NEWS
Heroes Star: Sarah Palin Stole My Hair!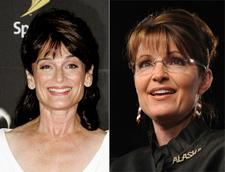 Look out, Tina Fey! There's another NBC star who bears a striking resemblance to Republican Vice Presidential candidate Sarah Palin.
Heroes star Cristine Rose, who plays Petrelli family matriarch Angela on the hit show, told OK! lots of people have been telling her she's a dead ringer for the brunette politician — the only thing missing is the glasses.
"I've been getting that," Cristine said when OK! caught up with her at the NBC premiere party on Thursday night at Hollywood's Boulevard 3 club. "But the first person who said that was me! I said she stole my hairdo!," smiles Cristine, whose Heroes character wears her hair in a big teased bun with bangs.
Article continues below advertisement
Cristine, 57, won't say whether she would vote for the 44-year-old Palin and her running mate, Arizona senator John McCain — "I'm not going to talk politics... She's a good looking gal. I'm happy to look like her."
Meanwhile, she's delving into the sinister on Heroes, which has a three-hour season premiere on Sept. 22. "I'm still looking for a weapon of mass destruction to get my will done," Cristine says of her character. "She gets a little more manipulative."
Will Palin become as powerful? We'll see!
By Carole Glines