NEWS
Hi There!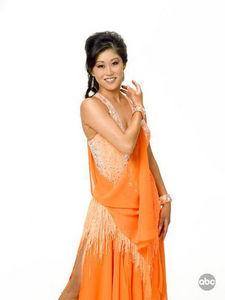 Hi everyone!
I'm going to be OKmagazine.com's new blogger while I'm on Dancing With the Stars! I'm so excited to be doing this blog and to share all of my experiences with you!
I'll admit I'm getting nervous for my first dance (I'll be performing the foxtrot)! It's been a lot of buildup, leading up to this and it's just the anticipation and how is it going to happen. Hopefully things go well!
So far training has been going pretty well. I rehearse between 4-6 hours a day the past couple of weeks. It's been an adjustment learning the techniques of ballroom, but it's been a lot of fun. Mark Ballas is my partner and he has been amazing, so I've enjoyed it.
Article continues below advertisement
I have to say I was very excited when I found out Mark was going to be my partner. He and Sabrina Bryan were my favorites last season. Watching them dance every week, I was just in awe. She was so good. When I agreed to do the show, I was wondering, "Who's my partner? Who's it going to be." I actually had a gut feeling it was going to be Mark, but I didn't want to get my hopes up because if it was someone else, I didn't want to be disappointed, but at the same time, he was my favorite. But really all of them are amazing and getting to know them now and meeting them, they're all a lot of fun. It probably wouldn't have mattered, but I was thrilled when it was Mark!
Mark has done a really good job of helping me drop my skating habits for the dance floor. Dancing is completely different from skating! I think it's kind of a misconception that they're so similar. I don't know why so many people think they are... maybe because you're performing to music? But if you look at the legs of the bottom half, there's nothing that is the same. Skating is free and you're moving and you're pushing off the ice.
Article continues below advertisement
In ballroom, you're on your toes, you're on your heels, parallel, your knees and your feet are brushing up against each other really close, so it's been totally different. It surprised me even how different it is with its technique and movement. I think we definitely needed that month to get the basics down. Hopefully the audience will see that there's been a progression of obviously being awkward and not doing it properly to learning it that the hard work and the hours put in has helped. The fact that I'm having so much doing it, I think that outweighs the work.
Coming on the show has definitely been a change of pace and lifestyle for me with two young kids and a husband who's frequently on the road playing hockey! First off, I have to say that it was very surprising when ABC asked me to do it! I'm a huge fan of the show, but I never imagined I'd be on it. My girlfriends and I watch it and we do our little DWTS pool and a couple of them are like, "Oh my gosh, if you ever get asked, you have to do it!" And I'm like, "Yeah, right! That's crazy. I have two small kids here in Raleigh. There's no way I could ever do that show."
Article continues below advertisement
But when they did ask, it took me a couple weeks to say yes because I do have two young children and it would be a huge undertaking. My husband plays for the Carolina Hurricanes, so a lot of logistics had to be worked out.
My kids aren't even here yet for that matter! They stayed in Raleigh so my older one could go to a few more days of preschool. They'll come join me next week here in California. Obviously it's a different world here in L.A. than in Raleigh. I have to get used to driving in traffic again! But I think it will be fine. I grew up in California so it's kind of nice to be back.
Going into my first performance, there are a lot of unknowns, like how are you going to feel. Are the nerves going to affect the performance, this and that. It's just been a long time since I've put myself in a position like that, but I'm very excited to get out there and dance! I hope you all will be watching!
Love,
Kristi