NEWS
Hilary Swank Sweats Out Life in Pilot's Seat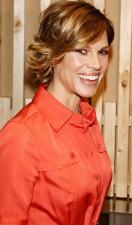 Although Hilary Swank plays flight pioneer Amelia Earhart in the biopic Amelia, the two-time Oscar winner isn't a natural at the control panel.
"I'm not a big sweater, but I would find after a two-hour flight lesson, I would land and my back would be drenched just from the concentration," the actress, 35, says during an Amelia event held at Essex County airport in Fairfield, N.J., today.
She flew 19 hours, and hopes to get her pilot's license.
Article continues below advertisement
"Learning how to fly was so euphoric because it was like I was learning how to ride a bike. It was a first. It takes all of your senses. You're completely immersed. It's dangerous, it's adventurous, it's all of the things that I love. I love to learn, and it was exciting to learn something new that really was challenging. I didn't realize all the calculations that go into flying. It seemed like I was back in calculus."
In the passenger's seat, though, Hilary is a frequent flyer.
"I spent 36 hours in the air in the last five days," she says. "I was in the air more practically than I was on the ground. In the last 16 days, I was in Italy, then back to Los Angeles, to Dubai, then London and back to Los Angeles – and now New York. The crew has actually laughed – because I know them so well. They say 'it's illegal for us to fly as much as you fly.'"
Article continues below advertisement
She's blown away when told Uma Thurman has praised her as Oscar-worthy for this role.
"To have such a compliment from another actress I admire so much is a great honor, and I have to say Amelia was so supportive of other women," Hilary says. "I feel like women aren't always supportive of another woman's strengths. Powerful women are supportive of the underdog women or when it's another woman suffering from inequality yet when it's another woman's strength, they find it hard to muster up a lot of accolades. It's very, very nice to get such a nice compliment from another woman I admire so much. It warms my heart."
What did Hilary take away from playing Amelia?
"Amelia lived her life the way she wanted to live it. She made no apologies for saying 'this is my life, this is how I see it, this is how I want it to be done.' I think that, in 2009, that's really rare – especially for women. Males are able to have the life that they envision for themselves, but women not as much even in 2009. We're talking about somebody who lived in the '20s, when women just got the right to vote, and '30s … it's incredible. It's obviously a period piece, but it even transcends what we know now."
Article continues below advertisement
She continues, "It was a reminder for me that you only have one life, and it's so short. It was a reminder that you have to constantly look within and live the life that you want to live for yourself and not for other people. I look at my life, and say 'I might be doing this because it's my mother's idea of my life … or your friend's idea, or your partner's idea.' Amelia was a great reminder that you can live your life the way you want, and find love and experience your dreams. You only live once. You might as well be doing what you love."
Here's a photo of Hilary and I. She's awesome.
Amelia is in theaters October 23.