NEWS
Hines Ward Gets Handcuffed by LAPD in Bizarre Case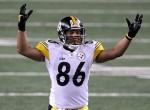 Hines Ward is making headlines this morning and it's not for the 10 he received on Dancing With the Stars. At around 2 a.m. the NFL star was handcuffed by the LAPD for being in a stolen vehicle that the driver reported stolen. Find out more about this quirky case after the jump!
OK! EXCLUSIVE: KYM JOHNSON'S DWTS DIARY — "FINALLY SCORING A 10!"
Here's the scoop: A car was reported stolen and it just happened to be the same one Hines and a female driver were in! Cops ran the license plates and pulled the car over. Both Hines and the driver were placed in handcuffs but she explained that she was the person who actually reported the car stolen, as reported by TMZ.
Article continues below advertisement