NEWS
Kym Johnson's 'DWTS' Diary: Finally Scoring a 10!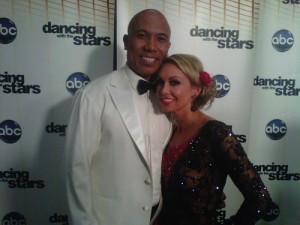 Hi, everyone, and welcome to my OK! blog! Every week, I'll be sharing with you all the behind the scenes stories as I train NFL wide receiver Hines Ward for this season's Dancing With the Stars, trying to make the Pittsburgh Steelers pro look as cool in the ballroom as he does on the football field for season 12!
We got our first 10! That was just amazing! I'm so proud of Hines. The competition has really stepped up and it's like, we can see the light of at the end of the tunnel and hopefully we'll make it through tonight. We'll see! We want to be in the final three —we would love to win the whole thing of course, but we're just taking it week by week which seems to be the best way. That' worked out the best for us. Hopefully all of a sudden it'll be like, we're in the final!
Article continues below advertisement
OK! VIDEO: TEAM CHELSEA CHA-CHAS TO LADY GAGA'S "BORN THIS WAY" ON DANCING WITH THE STARS
Hines was so over the moon last night, he was so excited to get that 10. It was a really difficult dance for him, so he worked extra hard on it. It was really nice to have it pay off getting a 10, because it was a very challenging dance.
It was great having Lucca with us this week in practice. I used to learn off Lucca when I was in London, he's an old friend, so it was really nice to have him come in and show Hines from a man's perspective, because he's normally used to just me being in the room. I don't Hines has ever danced with a man before, so that was definitely a new experience for him!
OK! VIDEO: WATCH HINES WARD & RALPH MACCHIO RECEIVE THEIR FIRST 10 ON DANCING WITH THE STARS
The team dance was really fun, it was nice wokring with the other cleebrities and dancers instead of just Hines and I by ourselves. That was a lot of fun, I think our team did really well. We definitely had a really good time. It made us bond more with everyone. However that was the one and only team dance, now it's just us from here on out. It was fun having the team one but it was a lot of work — we had to make sure we had the formations right, so it was a little bit more stressful.
Article continues below advertisement
We've got two dances every week from now on, so the competition has kicked into overdrive. It's exciting! Now it's just Hines and I so we can focus on our own dances. It should be good. The pressure is really on now, especially for the pros because we have to choreograph two dances and also come up with designs for the costumes. It does become a lot of work — if we get through, we can say goodbye to any sort of regular life for the next couple of weeks! We'll be practicing day and night — like 10 hours per day, like five then have a break and go back. It's pretty much eat, sleep, dance — that's all we do!
We're always nervous for results night, because it's been different ever week. Like Ralph Macchio was in the bottom last week, and he's in the lead this week. We don't know what the voting is, so we just don't know who's going to go. It's become so close this competition, so we're nervous.  No matter if you're on the top of the leaderboard, you're still nervous on Tuesday. If we make it through, we'll be going straight to the studio tonight to practice. It doesn't stop!